170712, Tuesday
2225 hrs
Villa 47
Kamalaya
Leam Set Road
Koh Samui, Thailand
I am writing at a wood and rattan desk in what I can safely say is the most luxurious accommodation I've ever had the privilege of staying in. After the hustle and bustle of the past few days, when I finally reached Kamalaya I didn't even have time to anticipate in my mind what it would be like.
For starters, the hospitality was impeccable. Then i received a personal welcome from Clive, the GM (and predictably enough, Australian) with the good--no, make that stupendously incredible--news that Id been upgraded from my silly little garden view hillside room to... Get. This. A VILLA. I could've wept with joy, but mainly I just smile like a girl who's goten her first bouquet, and keep repeating "thank you" indiscriminately in both Thai and English.
A quick buggy ride and we are at the villa--and interestingly enough none of the room are built in standard rows. This is by virtue of the fact that they've left as much of the place's natural topography intact, building into the hills and slopes rather than flattening everything down to an interminable concrete tundra.
So--the room. i dont know how to describe this momentous occasion adequately, but it went roughly like this: we walk around some stony, grass-surrounded, tree-lined steps and come to a wooden patio next to a leafy area with a deep pond and running waterfalls. I should've registered it at that point, but it was only a few second later that i see the villa, right there beyond the patio, a vision of warm lighting and earth tones.
The AC was running and ambient music playing. The doors slide open to reveal a spacious living room, done up in modern "resort chic" rattan-cum-steel furniture, on top of a cozy ivory shag carpet, 2 vast double doors which I later learn are my closet, and to the right, some cool off-white synthetic marble steps down, is a King bed sat in the centre of the bedroom, flanked by white shades, bedside reading lamps, more ambient lighting and laid out with a HUGE duvet and comfy pillows my guide informs me have been laid out according to the pillow menu I had filled out earlier; I have i) a buckwheat; and ii) a cervicalopedic pillow.
And framing ALL OF IT is the most beautiful wood-beamed ceiling, high and vaulted, and a huge piece of asian artwork that looks more chinese than Thai but I don't really consider that too much because I then see that the bedroom is all glass panels on 2 sides as well--and I'm next to a small waterfall.
I felt like I could cry with joy, relief, incredible gratitude--who know a room could make me feel this way?
Then my guide walks me to the left of the villa with a tasteful countertop, and a door. And when she opens the door I am so flabbergasted as the bathroom is just...stunning. Huge wood-panelled outdoor-sy shower with 2 showerheads, fully exposed brick lining the entire curved wall surface, again the beautiful teak-beamed ceiling, symmetrical set-up for the wash counter, uplighting, and an entire GARDEN next to the whole thing, nestled within the bathroom.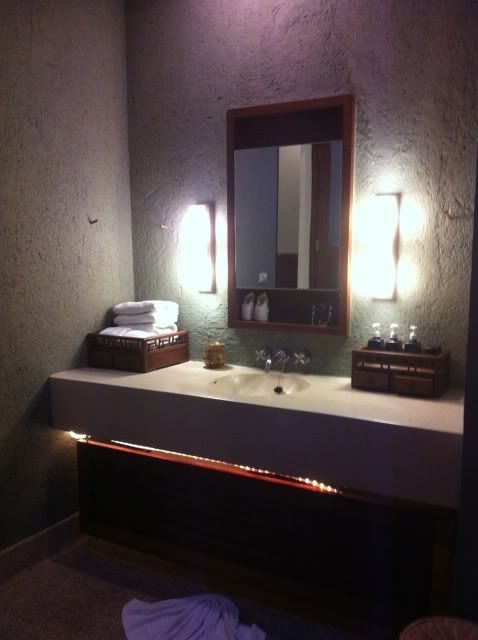 I just think to myself--I don't even deserve any of this, I really don't. Its too much, too beautiful, too generous, too kind for someone as self-centred as I. After my guide leaves me I just walk all around, touching and picking things up like a child who needs to be tactile and each new sight (hairdryer! fresh flowers! a fruit platter! tea and the health benefits of each type extolled! personalized EVERYTHING! oh gosh, the view, again!) I say thank you again and again and again until i sink down onto the sofa and pray to God so that I'm properly saying thank you to SOMEONE.
Then i went for a quick and crazy delicious dinner of wild salmon and quinoa (because from tomorrow onwards its just VEGGIES for me!). I come back to find my bed turn down, blinds drawn, music playing, bedside lamp switched on, candles lit--they think of everything here. Even my clothes have been unpacked from my backpack and are hung up and folded in my closet.
I slowly shower and tomorrow I await meeting my naturopath and doing some morning yoga. If the theme of the day is gratitude, then I hope it runs through the rest of the week that I'm here.