so ABC's GREEK is one of my favourite shows. detailing college life and the ups and downs that come with it, GREEK succeeds as a TV show because it deals with what many people go through without being predictable or corny. while it may not have the mainstream mass appeal of, say, gossip girl, it does have an extremely likeable and charismatic cast and, a loyal and dedicated fan base.
its a pretty hilarious show with a lot of heart. and once i started on it a couple years ago, there was no turning back. GREEK recently came to its undeserved end, although it was smart to end on a high instead of playing college out for anything more than its customary 4 years.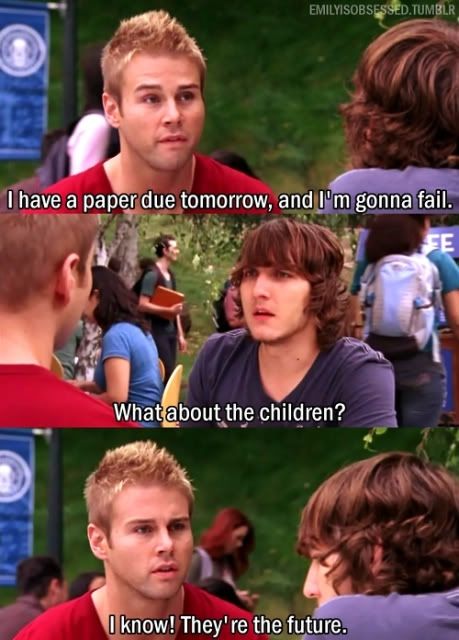 chief among the reasons for fans watching the show is the long-term relationship between 2 greek society presidents, Cappie (frat) and Casey (sorority). yes they have quite unisex names. their relationship captivated viewers in no small part due to the overwhelming fangirl-dom behind scott michael foster (cappie), but also because it was such a realistic depiction of 2 people on TV, and thats not easy to come by.
no over-the-top gestures, no cheesy moments, and a very real issue of what happens when 2 people who love each other dont necessarily want the same things in life, at least after college. of course, a happy ending was to be had, but even i didnt expect the way it all played out.
the final scene, with forever young playing in the background (ok MILDLY corny), but those were the last words they uttered on television. a very fitting ending to a show thats chronicled what happens between people being 18 and 22. i suppose i relate because i'm done with my college education now, and i'm not so sure that moving ahead is exactly what i want to do. its a pretty sweet 2 and a half minutes of TV.
and if you'd like to get started,
you can catch
greek
HERE,
all 4 seasons.
starring: spencer grammer (YES kelsey's daughter), scott michael foster, jacob zachar, jake mcdorman, amber stevens, clark duke, dilshad vadsaria and paul james.