while it is the FW11 shows that are hogging the fashion headlines, in the Real World it is time instead for SS11 (yes because that was so last season, unrealistic fashion slaves). But this chronological disconnect gives me great pleasure--because i get to revisit the lush vibrance of the SS11 shows, some of which were stunning, and i am sure instantly recognizable.
Enjoy.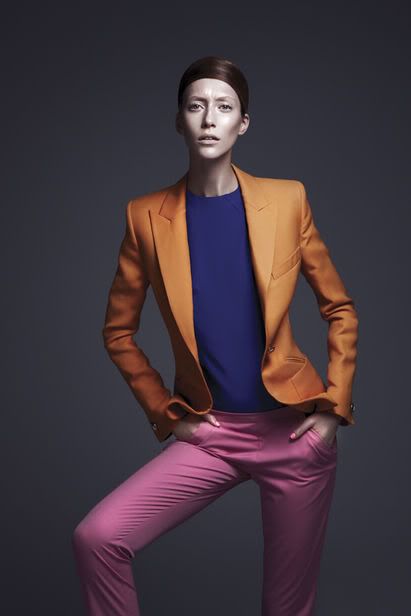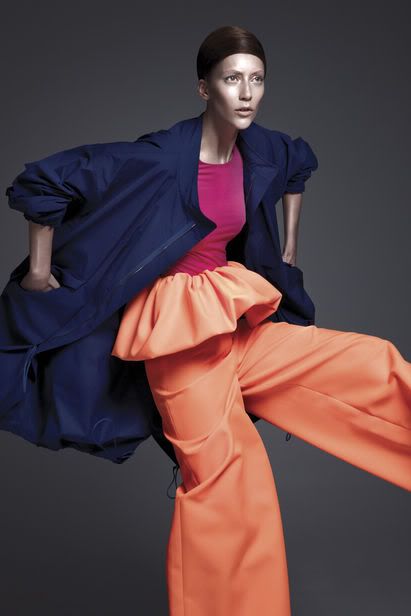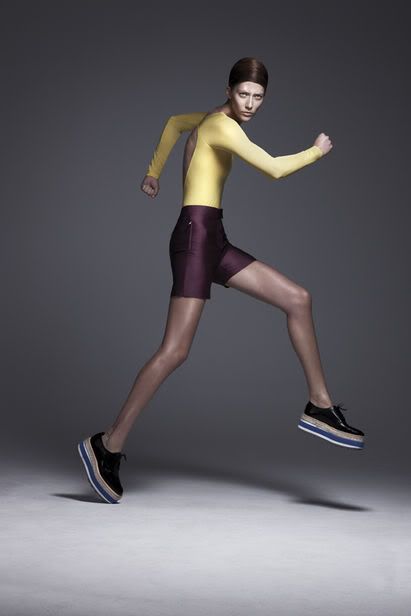 you should be able to recognize the

SS11

runway stunners like

prada

(stripes!),

jil sander

(all that solid color-blocked volume) and

gucci

(secondary colored jewel tones). all that luxe, almost purist, saturation of hues is combined with impeccable tailoring for a sleek silhouette; i suppose color-blocking's gonna be around for a while.
so all we need to do to be on-trend this season?
WEAR. SOLID. NON-PRIMARY. COLOURS.
and as a final note, i might mention that im not quite a fan of ms zimmer's severe hair-as-helmet combover... yes futuristic and "forward", but also entirely Space-Age Weird. like if she went to space summer camp, she wouldnt be one of the cool kids.
shot by:

Ishi

for

Amica

magazine (Italy)
model: Alana Zimmer
styled by:

Paolo Turina/

with

Ryan Taniguchi

(hair) and

Lottie

(makeup)
photo credit: GoSee
-
now for more sartorial inspiration (i know shes sticking to monochromatic classics, but that's just her style). I think alexis bledel (of gilmore girls fame) is one of the most stunning women on the planet who also happens not to be a Young Hollywood trainwreck: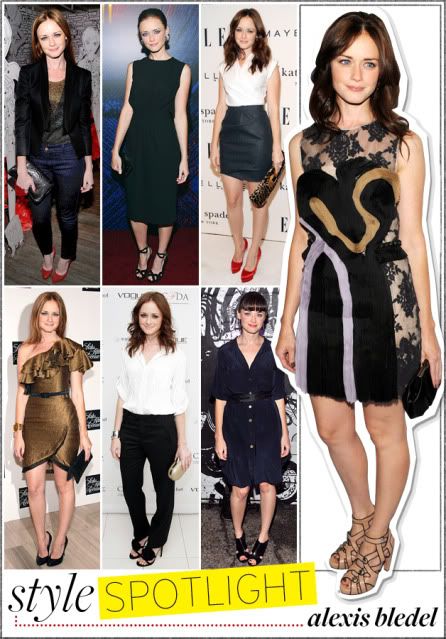 -
finally, just because i've been writing much more than usual of late and therefore need a (non-judging) outlet:


Northstar
Time and circumstance: a dastardly pairing,
Scheming, conspiring—I deviate from my bearings;
No emotional True North exists if truth be told
But I forge ahead with teeth grit and mind bold.
aurora borealis:
I navigate this treacherous terrain in search of you,
A phenomenon, collision of charged particles—illuminate.
Unreachable, unfathomable, my frustration accrues,
Still I jostle yet furiously against this doomed estate.
The vast expanse of wasteland stretching impossibly far
Ahead of my eyes—is there an end in sight?
I trundle, you tromp, absent any rhythm between the two,
My hopeful, beating heart faces only winter's blight.
The compass always points back
To you.