before i begin: IVE UPDATED THE LINKS! THANKS.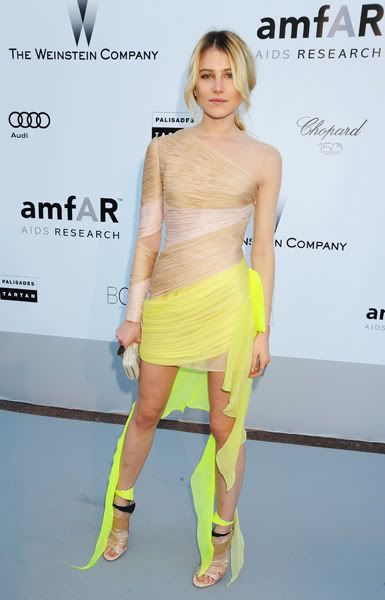 dree hemingway

in

valentino couture SS10

at the "cinema against AIDS" benefit in Cannes, France
so even if pictures are worth a thousand words, i would have been SPEECHLESS seeing dree as she was in valentino couture. i'm pretty sure this image is new to anyone who sees it, because it took the fashion world by storm about a month ago, when the images traversed the web at lightning speed as people tweeted, blogged and generally gushed their way through the parade of gowns while ms hemingway arguably stood firm at the top of the heap.
-
now it appears that marie claire magazine has followed in her stunning footsteps. (btw, HER SHOES. kill me now please. i cannot place them!)
a great way to not just co-opt dree's look but to be appropriate for the season is to catch on to this bandwagon they've conveniently termed ACID BEIGE.
indeed, neon pops of color are tempered with the sexiest neutrals like sand and blush, creating a look that's not too over-the-top while sitll being complete attention-grabbing.
balenciaga/roksanda ilincic/DvF/calvin klein/max azria
style.com
has a rather more blinding take on this spring trend--going all the way with neons and acids as shown on the Resort 10 runways (as opposed to the SS10 season). i suppose its the wild abandon of partying away in exotic locales that gives rise to a similar disregard for propriety and "toning it down".
besides, Day-Glo and golden tans are quite the bedfellows.
of course, how can i end this post with any other image than that of
SJP
in her neon yellow stunner from the same collection as
dree
's pick?
she matched it with silver ferragamo pumps, loose waves, minimal jewelry...
and a megawatt smile.
i suppose this summer, THAT's really the best accessory.
SO whether you decide to go all the way like sjp or keep it tempered like dree hemingway, there's no question that pastels are out and rainbow brites are in.
-
fallon

cuff by

dana lorenz
final picture--item of lust. just saying. it would go SO WELL with anything neon!
sydney calls more and more loudly-- i'm flying off in just about a week, and its been 15 years since i was there last!!! INSANE. i would defo appreciate tips and ideas from anyone- just email me at leyandrea13@gmail.com and that would be MUCH APPRECIATED. feel free to ask for something in return haha. aside from the competition, i'll have about 3-4 days free on my own, aside from meeting up with friends and their friends.
-
photo credits: style.com, GoSee, Buzz Catalog