loving each day as if its our last/dancing all night and having a blast/cos baby/i want you right here next to me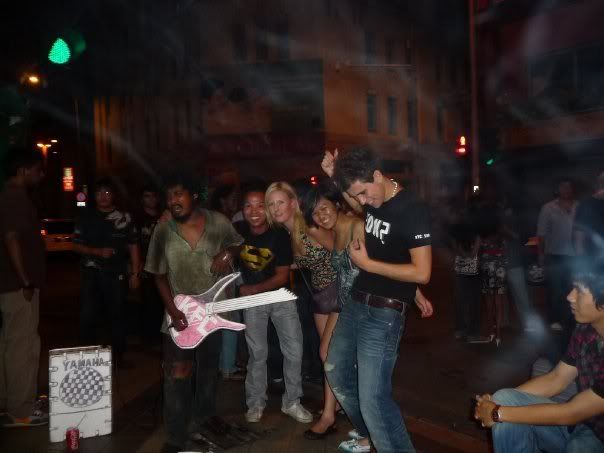 jack/pip/me/oli
posing with a busker on a KL street. we were a multinational bunch!
-
anyways. since my camera got stolen, i've had lots of difficulty doing proper outfit posts, especially since i dont want to revert to using my macbook's built-in camera.
SO. here i present the past month in photos culled from facebook. (HOW AMATEUR!!!!)
-
warehouse dress/stuart weitzman magenta quasar honorroll heels/marc jacobs satchel/tiffany jewelry.
image credit to my dearest friend jinesh who's been Very Into his new camera.
the light that afternoon was absolutely gorgeous as well; we were outside the museum and it was the prettiest setting i had been in in a while.
the bag comes in dusty pink, slate, and black, but my mum decided on the grey one. so here i am, just borrowing it. the grey makes it super versatile and i really like the pyramidal stone detailing. definitely more bad-ass than the pink one!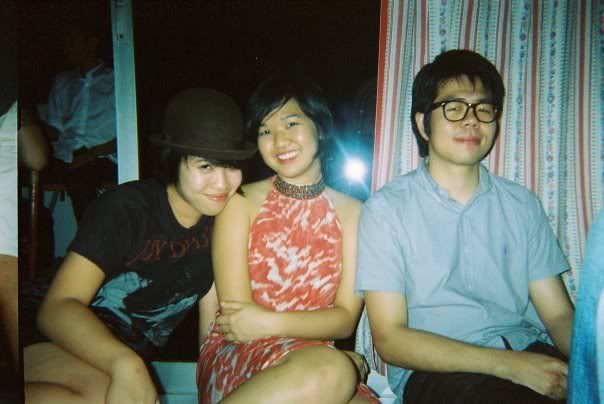 michael kors dress, red lips. no jewelry!
zing/me/shaun
*hopefully* my future collaborators when they come here for summer from the UK (cambridge and bristol respectively...). here we were at a friend's house, and i really love the ethereal tint to the photo.
we used a film camera, so that must be why it has this hue to it.
HITLER!!!!!!!!!
it was an austin-powers-themed birthday party and they brought a kohl liner, and everyone had to draw on themselves. most people drew moles, referencing the "moley" character from the movie.
i of course, missed out the part of the invite detailing the theme, and therefore came dressed... in decidedly NON-60s wear. so a hitler mustache had to do the trick.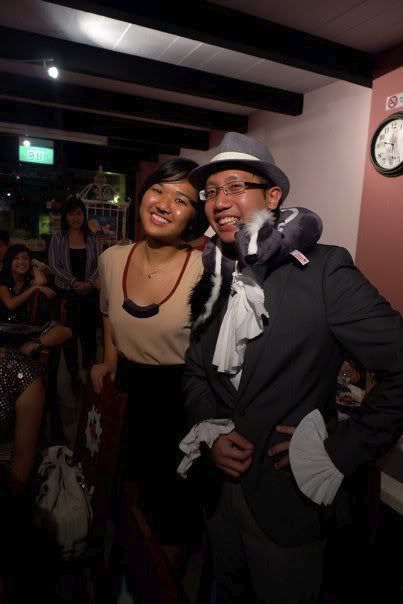 alldressedup top/warehouse wool pencil skirt/tiffany jewelry.
amazingly enough, the mustache paid off, because here i am, Most Sporting Girl, along with my friend moses, the Best Dressed Boy! he took honors for obvious reasons-- homemade frill sleeves, skunk pillow-round-neck, fedora and tux. twas a night of good fun!
marc by MJ dress/aldo pointy flats/own glasses/mop from school.
this was a time of HUGE laughs. i knocked my can of tea over, and had to clean up the mess... so i trotted off to the loo to ask the cleaners for a mop i could borrow. using it effectively was another story altogether.
but that was a fun day too.
dorothy perkins

top/

tiffany

jewelry/fuschia lips.

so that's all i've got, at least in terms of photos that properly capture me and what i'm wearing. i've been pretty busy with law school and figuring out what it is i'm gonna do next (in Life, that is...).
i miss writing back to everyone and i promise i will do so by the end of this month so keep writing to me and thanks for continuing to visit Life in Technicolor.
cheers! xxxxxxxxxx