hello everyone, i'm sorry i've been away so long! aside from exams, i took a short trip to KL (photos up very soon!), after which i had a Youth Conference, after which i... got lazy and/or had too many parties.
jovovich-hawk

silk top/

anthropologie

cuff/ mom's pants
i recently busted out my mum's high-waisted pants which i like to call my BIG BUM PANTS. it was a friend's 70s themed birthday party...
of course my top was very au courant except that most people were oblivious to that LOL. it had huge ornate buttons all down the back, with a silk sash too. hopefully i will be able to put more detailed shots up... at some point. btw i managed to get that top at a CRAZYAMAZING discount. think $800+ reduced to $90. needless to say, i picked it up immediately!
anwyays, emphasis on the bum = #1 reason why high waisted pants are risky for me!! so here are the only 2 other times i've pulled off the look... by focusing on the top half either thru details or color or fabric, and keeping my fingers crossed. haha.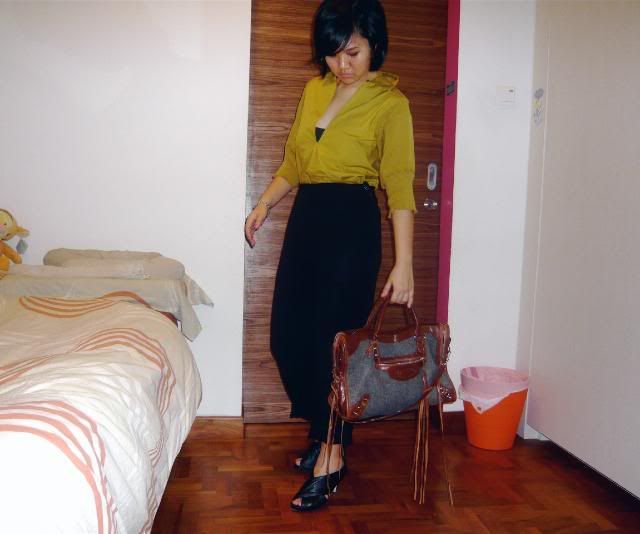 marni knit/cotton top/mom's pants/ pedder red leather shoes/balenciaga wool+leather city (FW06)/tiffany heart tag bracelet.
its actually just the green top, but my mom also made me wear that black tube inside so that no wardrobe malfunction would occur...thou i personally feel that a deep v-neck is no problem if
consuelo castiglioni
intended for it to be that way, haha.
i wore this outfit to the gareth pugh fashion show a number of months back...wearing green there certainly made me stand out, but i dont subscribe to the whole wear-the-designer-youre-seeing scheme of things. you're there because you appreciate his/her work already...
and btw that bal is SUCH a conversation piece. its currently on heavy rotation and i've actualyl had many a conversation struck up because of it. never did i expect that!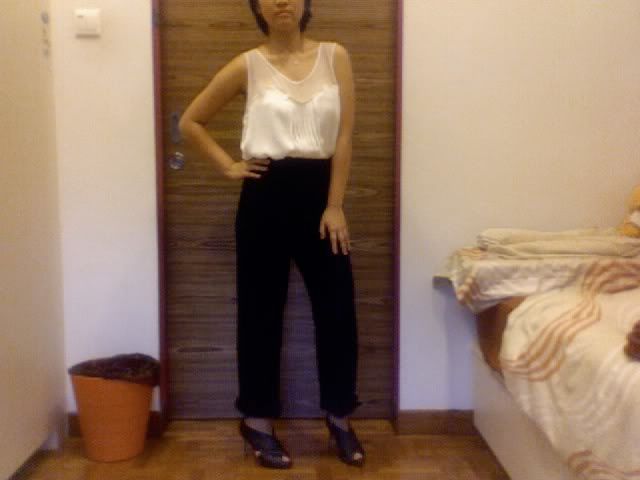 shoes and trousers as above/

dorothy perkins
top/
tiffany
elsa peretti starfish necklace,
own
attitude. :)
poor shot from my macbook. back when i couldnt be bothered with my stolen camera to borrow from my mom/brother/dad. yes we each have one.
what i liked best about this outfit was the equation of
girly top+ boyish pants + fierce shoes = HMMM. interesting outfit.
so... thoughts on big bum pants? whether or not they're here to stay, they can be fun to wear.
and
happy holidays everyone! joyeux noel!