before you scroll down to look for images,
who wants some
free
marc by MJ
 goodies
!?!??!
well, here's your chance:
SO!
darling site
SHOP IT TO ME
has ingeniously come up with a head-to-head pairing of brands, which will "duel it out" as readers LIKE US vote and determine the winning brands!
if you're not familiar with the site (its been on my sidebar for months now...), you can read a quick summary of its main highlights
HERE
. 
now just LOOKING at these head-to-heads, im excited to vote! only the winning brand in each match up will proceed, and it will carry on for
5 whole weeks
 before a final winner is declared! what's fun about this concept is that WE get to decide which brands we favor--quite a democratization of fashion, no?
its in this spirit of fun that
SHOP IT TO ME
 constantly exists, and here's the best bit i mentioned earlier: as if you needed any extra incentive to take part in this fun fun fun exercise, they're giving away
marc by MJ
 accessories (wristlets, umbrellas, key fobs) too!!!!
right now, its probable that you're thinking WHAT"S THE CATCH?
and the truth is, there's NONE. all you need to do is:
 click on any of the SHOP IT TO ME links contained in this post, which will get you to the site. 

sign up as a member, if you havent already. membership perks? read about them HERE.
ONCE YOU'RE A MEMBER, click HERE to start voting for your favorite labels, and watch their competition crash out! haha evil...
cross your fingers and hope you win some goodies. if not, keep playing! 5 weeks, dude.
either way, its a free, easy and FUN activity that combines fashion with good old competition-- i mean, doesnt everyone love a winner? ;)
 ---
shot by
daniel schroeder
in south africa for
MAXI
magazine, these images remind me completely of the season we're about to enter into. the saturated colors, sunset hues and glow from the light cast on the model's face all synthesize to a lovely warm pinkness set in nature. 
it really was love at first sight for me...

and while i have no doubt the photos were enhanced, i would still love to see a park full of colored leaves.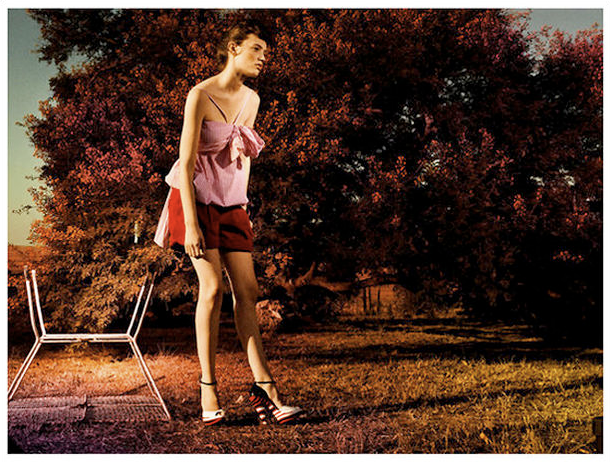 now i dont get a particularly fall-esque vibe from her clothes, which in fact are rather summery, but reds, blues, and girlish ruffles with the quintessential girl shoe, the Mary Jane, make this model quite the ingénue!
i especially like that this is juxtaposed with her edgy hair...reminds me of
karla
 from karla's closet. i don't think i can pull such a hairstyle, but i can certainly try adopting this primary color palette!
HAPPY FALL EVERYONE.
to a good season and good things ahead.