so here's a really awesome story:
girl has friend, friend goes to newyork, friend goes to bakery, buys cupcakes, friend hand-carries cupcakes back home via frankfurt, friend gives girl cupcakes and takes photo of girl WITH said cupcake box. girl is very happy.
the famed and fabled
magnolia bakery
is home to the cupcake, made famous of COURSE by dearest carrie bradshaw, who i rememebr had one with miranda along bleeker to calm her nerves. i could have these whether or not i had nerves to calm. :) 
**side note: YES that is the newest addition to the family: 
the
chanel 2.55 reissue (medium) in lambskin and gold hardware.
I HAVE TO DISCLAIM THAT THE 2.55 ONLY REFERS TO THE QUILTED BAG WITH THE METAL CHAIN & THE MADAM LOCK, AS DESIGNED BY COCO HERSELF. (lambskin only)
the perhaps more-famous and certainly more coveted bag with the leather-and-chain straps combined with the (horrendous??) double-c lock is designed NOT by coco but by
karl lagerfeld
, whose aesthetic i am inclined not to appreciate. only representing my personal opinion here, people, so please dont shoot me. that bag is NOT the 2.55 despite the misconceptions, and it is merely termed the CLASSIC FLAP BAG. 
to my knowledge, the 2.55 is far rarer (i waited a number of months for mine, which came in a shipment of only 3, which resultingly sold out via preorders including mine...they're hardly on the shelves!), and as a result does cost more than the classic flap bag. it also does NOT come in the cheaper caviar leather the classic flap bag can be incarnated as. 
i dont mean to appear ranty, but i am rather quite sick of people mixing up the 2 bags-- i appreciate the history behind this bag as well as its discreet luxury.
no logos for me, thats for sure.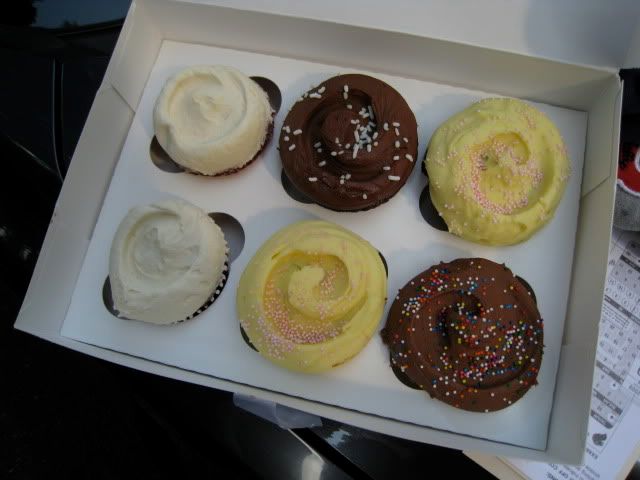 red velvet, chocolate on chocolate, vanilla on chocolate, chocolate on vanilla. 
magnolia
 only does 2 standard types of cupcakes: chocolate and vanilla. you can mix and match those with either chocolate or vanilla buttercream icing. 
the beauty of these babies is how light and airy they are...i'm used to denser cupcakes and these were the instructional epitome of how being whipped could actually be a good thing!
these are, for comparison's sake, from
sprinkles

 in LA, another franchise that has captured the imagination of many. just like how

magnolia
's NYC sensibilities keep its options simple, the west coast psyche always dictates that the more there is, the merrier. 
so
spinkles
 has tons of choices, and unlike the whipped buttercream used by
magnolia
, they have a thicker, creamier, denser and sweeter type of icing. 
the truth is, while i love the airiness of
magnolia
's and i have to say their vanilla-on-chocolate combo is SUBLIME, that
spinkles

 

still does the better version of the only cupcake we all know really matters:

RED VELVET. 
ps: these are completely personal opinions i know people are very protective of their cupcake bakeries! i have yet to try
crumbs
, but i'm told they're only middling in comparison. 
 thoughts?