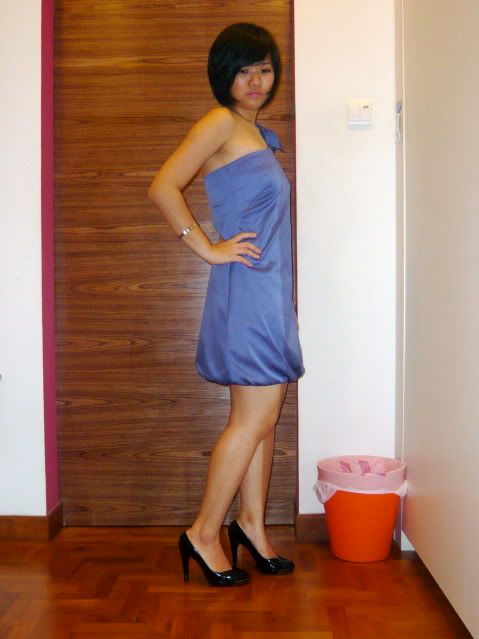 'spotlight' by warehouse  
toga dress, stainless steel bangle from hongkong,
stuart weitzman
 jet mirror alto platform pumps.
excuse the weird facial expressions...i get like that sometimes. i smile plenty normally, just not when im alone and facing my small camera.

wore this to a dinner party over the weekend... it was specified "dresses or nothing at all for the ladies", so i chose the former. haha. the photo was taken POST-dinner...and mind you this wasn't just your typical fare of hors d'oeuvrs and canapes...NO. it was a fullblown 7course individually plated Cantonese dinner.
lovely food, washed down with copious amounts of chinese tea, champagne and white wine.  
i realise you cant see...but the toga side of the dress is actually a big satin bow! very
SJP
 if i say so myself, and that's actually why i bought the dress in teh first place. its from
warehouse
's line for special occasions,
spotlight
. this dress is no longer in stock but many similar styles are still up for grabs. check it out! :)
-
**EDIT//
ok facebook has yielded a photo of the big blue bow!
what's a girl to do with champagne and wine? why, have both of course! :) xx
-
so...i was tagged by the lovely
honeybunny
to do a Q&A, so here it is!
What is your current obsession ?

my new silver and tan leather Dolces, green tea, squats, anything woolly, yoghurt.
What are you wearing today ?

richard nicoll top, white shorts, big earrings, no makeup.
What's for dinner ?

fruit salad, grilled fish with lemon honey sauce, mash, and ice cream for dessert.
What are you listening to right now ?

After Dark by Le Tigre
What do you think about the person who tagged you ?

she's lovely and porcelain and very perfectly girly.
What's your must have piece for summer ?

nice cut-out sleeveless tops, fierce sandals, and heavy accessorizing.
If you could go anywhere in the world for next hour, where would you go ?

any where in Italy or Spain for the best homecooked native meal they offer.
Which language do you want to learn ?

currently abysmal, but I've already started Spanish and French. (for a number of years now..that's how slow i am!)

What's your favorite quote ?

"it is the spectacular, and not life, that art truly mirrors." -Oscar Wilde

What is your favorite piece of clothing in your own closet ?

What is your dream job ?

mogul.
Any favorite model ?

mostly the males? KIDDING!!! anja rubik and ai tominaga.
Favorite designer ?

NICHOLAS GHESQUIRE, dries van noten, phillip lim.
What do you consider a fashion faux pas ?

wearing too many trends at once, and wearing designer top-to-toe; there's no personal stamp in either of those cases.
Describe your personal style ?

Clean lines, lots of mix-and-match, embraces color, accented with fabulous accessories.
What's the most expensive fashion item you've ever purchased?
The rules :
1. Respond and rework; answer the question on your blog, replace one question that you dislike with a question of your invention, add more one question of your own.
2. Tag eight other people.
SO...i tag: (all these blogs are on my sidebar--so take a visit! :))
Ashford from ashford gets dressed

Zoe from Graciously Zoe
Janet from Janetteria
Kira from Kira Fashion
Tina from Luphia Loves...
Stella from Stella Wants to Die
V from The Valentine Journals
Lynnette from tis serendipity
if you guys have any other questions (cant imagine THAT being the case!), just ask away by commenting. i dont want to paint myself as more interesting than i may be....
nor less so, by the same token! :)
cheers all xxxxx