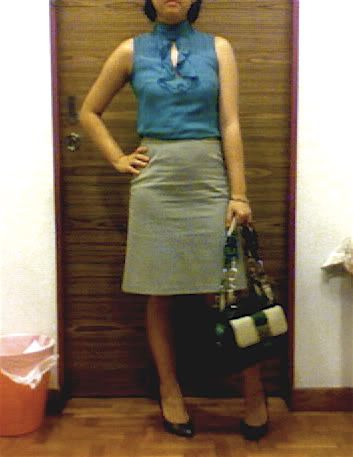 today i went to the theatre! 
it was wonderful watching 
oscar wilde
's
the importance of being earnest
. it had an unusual all-male ensemble, which put the focus on the witty wordplay that is
wilde
's literary interface of choice, and exemplified the shallowness and superficiality of the society he so sought to satirize. 
and in the words of one
andy warhol
...
speaking of which, i also visited the
kenneth tyler
 exhibition of prints from some of my favorite artists including
david hockney
 and
jasper johns
!!! it was amazing. but i digress.
 i suppose my high collar was a subconscious mimicry of the victorian era it was set in...HAHA.
close up of the blouse! this is its maiden trip out of the shopping bag after MONTHS... its satin with a chiffon overlay and has a keyhole adorned with ruffles and 3 cute buttons! its zippered at the back. but what i really like is its turquoise color! soft azure that isn't jarring on the eyes. 
and my green/cream/grey/metal bag kinda matched the turquoise/grey ensemble i was wearing...which i thought was quite nice. sometimes you never know when a bag's color might come in handy! and how it looks like without horrid photo booth...
my patience is wearing thin... thank you for enduring this deluge!
nanette lepore
ruffled keyhole blouse,
wanko
grey pencil skirt,
balenciaga
 cherche midi bag,
pedder red
 gunmetal pumps, stainless steel bangle from hongkong.