on this particular easter sunday morning, i was running late-- the slapdash resulted in an unexpected combination. i suppose when we think less, our subconscious steps in to take charge. also,
HAPPY EASTER EVERYONE!
random ruffle blouse,
haberdasher
skirt,
balenciaga
cherche midi bag, necklace from mom,
christian louboutin
patent orange miminettes, own scowl.
a close up of the necklace...an ancillary benefit of my mom being away is that i can peruse her wardrobe as i wish! the jewelry was the last addition to the outfit, and although i don't usually wear much jewelry, i decided to let this speak for itself on a monochrome outfit.
PLUS: bonus that it matched my bag.
it's quite ornate, and very pretty in my opinion, with speckled jade beads, glass beads, and burnished metallic pieces.
then i realised that
valentino
did ruffles for his last couture collection, and as always, seeing a parallel makes me feel much comforted, in that i'm channelling more haute than hobo.
the shape of the ruffles is truly similar-- everything gathered at the centre, with a framing of the decolletage. obviously the high collar in the runway version would be too dramatic for real life/practical wear...but i'm still chuffed that i have a piece like this!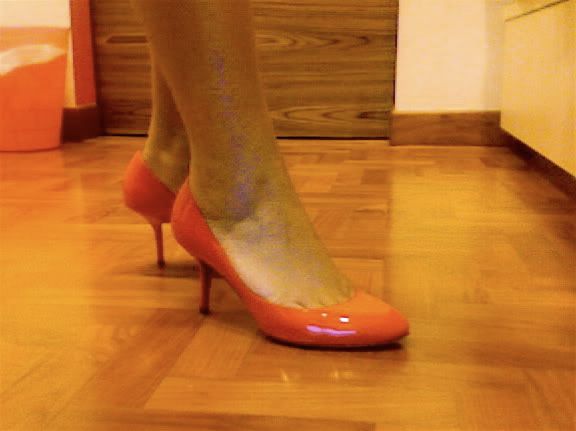 and FINALLY!!!!!!
some (again, low-res) virgin pictures of the
loubs
... i'm glad the shangri-la hotel floors were carpeted, so all the abuse my shoes endured was from the carpark --> ballroom.
you can barely see the red soles, but i thought the orange gave the perfect amount of pizzaz to the outfit...
i think i really do surprise myself when i'm sleepy. haven't been this pleased with spontaneity in a while. orange + green doesnt always equal carrots.