disclaimer: i'm not covering
balmain/valentino 
simply because i'm sure everyone else will be...and my picks in this entry get better as you go along. this was the most exciting of the FWs for me. have fun!!!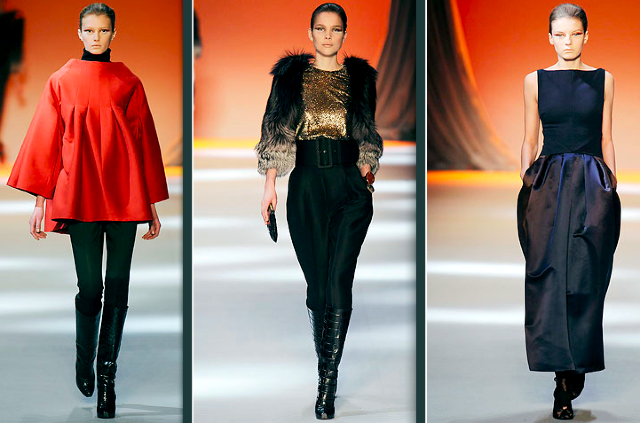 quietly elegant and with a ladylike sophistication, this collection was less flashy-fab than what i expected (neon platforms, anyone!??!)...
skirts were long and lean, with a gathered waist.
valli
kept his proportions close to the body, with voluminous, architectural sleeves, narrow waists and ended with a wonderfully luxe indulgence of a peacock-feather dress that referenced
gucci
 without being starstruck.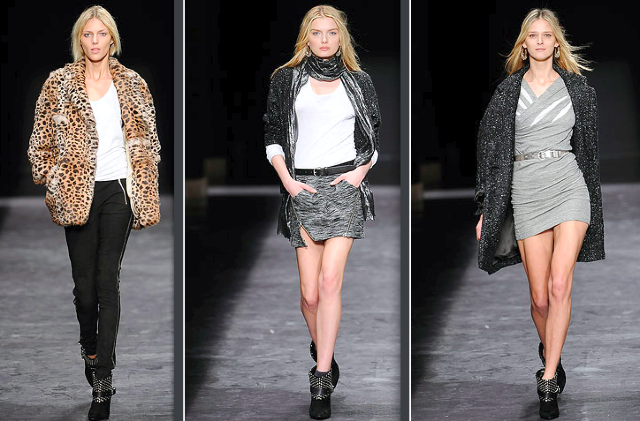 as usual: on the pulse of parisian chic street fashion for the ingenue! i love how carefree yet put-together the quintessential
marant
 girl is. you can spot her a mile away.
ms marant 
can design as well as she can style-- short skirts! hemlines! legs! a slit here, ruffles there, throw on a shagreen coat! sequins! leopard print! belt it all up!
and in the midst of all the girlish exclamation...
THOSE FREAKING BOOTS. they are amazing.
emmanuelle alt
 got to them first.
it's almost like she wants to say-
have fun with fashion; its not what you wear, its HOW you wear it.
understated, uncluttered, uncomplicated. that's not to say that this collection was without its brilliant moments...but one got the sense that a zen-like cool was the order of the day in the midst of the global Chicken Littles and their self-created chaos.
tailored loose-fit pants, loose kaftan-like dresses, unfussy jackets--all in a japanese-pebble palette of neutrals, grays and blues. washed down with sensible flats.
oh where do i even begin. LOVED THIS! such a strong coherent collection from start to finish--
palette: black, white, gray. 
styling: all woman. red lips, hair pulled back. this is serious business, kids.
silhouette: hourglass. waist waist waist, plenty of deep Vs for sex appeal. 
everything was tailored to within an inch of its own perfection and finished off with more of those lovely platforms
ysl
has been doing. 
(although, despite the iconic status of the
tribute
 range of shoes, these new platforms in a slight v-front do remind me of last season's
jil sander
s. but no matter--
ysl
's twig-like stiletto heel is unmistakable to the fashion set.)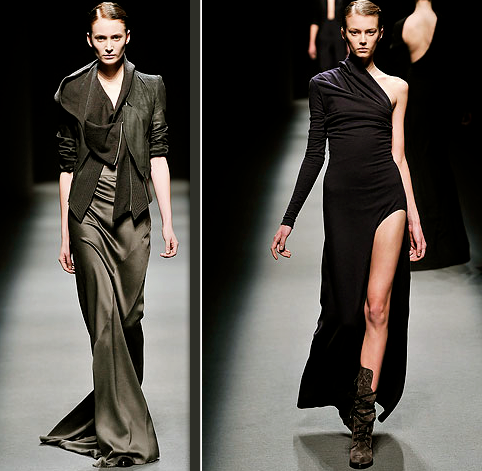 way under the fashion radar that is all but in love with messrs
decarnin
 and (just before him), 
ghesquire, haider ackermann
 is nonetheless one of the most inventive and original designers out there.
incredibly sultry and seductive, his drapery and mastery of the material on the female form would put
donatella
 and
giorgio
to shame. close to the body and sexy beyond belief, no skin need be shown in his clothes. his leather jackets are the most gorgeous i've seen so far, blowing even
balenciaga
 out of the park.  sleek, sexy, luxe, but with none of that overt girliness that labels like
dior
 tend to favor. this is fashion for the thinking girl. and i want me all of that. 
i've saved the absolute best for last. this was refreshing and fun, a most sorbet-like delicious palate cleanser of a collection-- 
harking back to 40s America, the dainty ladylike silhouette was paramount, with flowy skirts, sensible pumps, loose-fit pants, silk shirts, belted coats, straight-cut blazers, horn-rimmed shades, and nothing below the knee: ALL IN RICHLY SLAPDASH DELICIOUS POPS OF COLOR that you can conceivably mix and match to your heart's content. 
this was intellectual, fluid, pragmatic fashion that wasn't afraid to inject color into the sombre-ness of the season amidst the gloom and doom generally permeating the austere collections we've seen recently. the silhouettes were simple and practical--no crazy-ass shoulder pads or indecent hemlines, nothing crudely sexed-up, nor anything but good old pumps. it almost reminded me of a more sophisticated, more grown-up version of last season's
marni
 with the colors...
his famous prints gave way to simplicity of cut and solid colors, but in the retro-coolness of it all, the rainbow of salmon, teal, burgundy, mustard, cobalt and mint that was this collection will sell and produce that proverbial pot of gold.