for me,
etro
 was really a HUGE standout--a coherent, inspired collection that wasn't afraid to do its own thing, but didn't alienate its audience nor compromise on its wearability. (one calls to mind the
missoni
 beautiful disaster, for one...)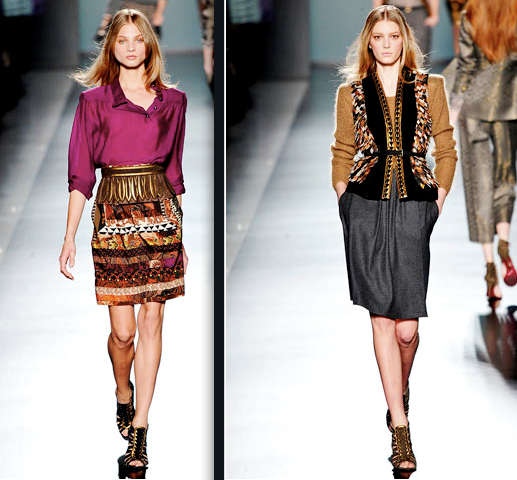 known for bold color and print and luxurious silks,
etro
 never veered off course, all the while collecting inspiration from the richly opulent 
byzantium
 era of the turks. and it SHOWS.
feathers, silk, anything gilded, paillettes, metallics, fringe, sequins, the list goes on...just as turkey straddles 2 continents, so ably does this collection meld a global gamut of influences on its clothing without once seeming incoherent or schizophrenic. even more admirably, there's never a sense of "too much" despite all the embellishment!
of course a requisite maxi dress is always in order, and this time a few were sent down the runway, thou none as amazingly boho-modernist tribal chic as this one...LOVING the choker!
 lots of bold secondary colors too, for that bohemian edge. SO
etro
, yet so fresh.
more fringey collars and of course may i please comment on the lovely footwear:
it is still strong and sexy, but makes an effort to move away from the black-dominatrix bondage vibe that's been soooooooo done thanks to
givenchy, ann d, kirkwood x anyone
, etc. the whole tribal thing may have been slightly co-opted from
marc jacobs'
 previous
lv
 outing (spread-eagled
madonna
, anyone?), i think this is original enough to stand on its own.
and 
on the topic of footwear: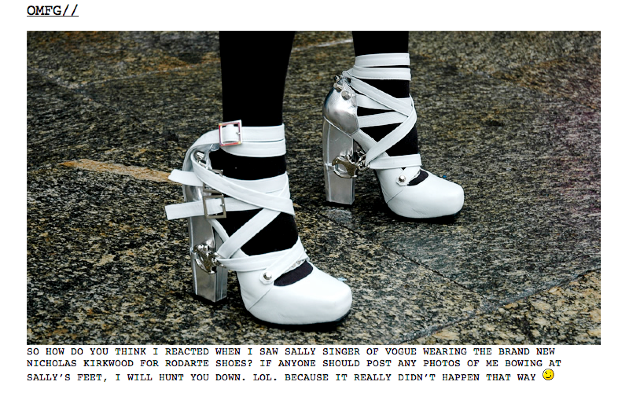 i totally co-opted this from
jak and jil
because i couldn't help it! yes the dominatrix has been done to death, but i am helplessly in LOVE with anything
kirkwood
, i swear he can do no wrong, and these shoes seriously bring the bondage theme to a Whole New Level, with all that hardware. pretty amazing.
rodarte
's been getting some amazing shoe collabs! from those studded gladiators to the MAD MAD MAD ss09 thigh boots to these. when i go to
barneys
 i have to check out all the shoes i can get my little paws on. 
in other much less important news, i have a trial advocacy thing tomorrow morning. i'm defence counsel...i'm glad i got the side of the law i always saw myself on.
ps: am still replying comments, thanks!