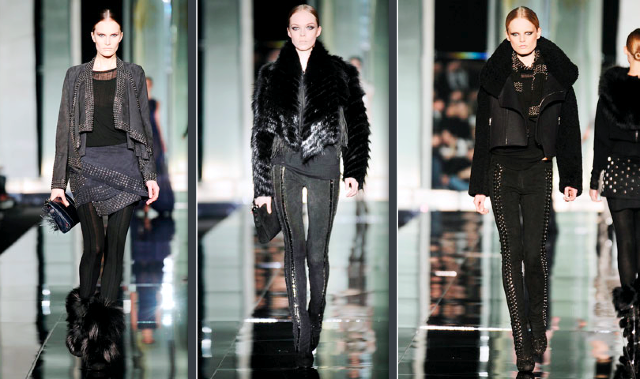 in MILAN:
and the inimitable
roberto cavalli
 does it again, scoring an undeniably strong sexy vision of the modern rock chick--she's an upgraded updated version of greasy trashy edginess. 
embellishment ruled the day--more studs, zips and fur than you can say hot glue gun plus cruella de vil...
streamlined and sexy with lots of black, this look will win groupies hot for its style.
ben-amun
by
isaac manevitz
this haute jewelry brand was created by the son of a jeweler for the Egyptian royal family; talk about pedigree! Isaac has been known for his innovative use of unusual material to create his very distinctive designs...

lace and black seem rather witchy to me, but there's no hint of bubbling toil and trouble here! they're gothic in an extremely girly and pretty way, and i don't think this would be at odds with
cavalli
's newfangled modern rock chick. 
 i barely have any heavy-duty clothes, so i'm not sure how i'll get studded. terrible at anything DIY, too. at least i have the summer to get over this before fall 09 hits. cheers!