inspired by
trovata
(see NYFW FW09 top picks)
and their feminine-
garconne
aesthetic, i decided to try a silhouette i've never attempted before--the high-waisted pant. 
Quite an oblique thing to pick up on i know (cuffed/folded highwaist pant hems?!?!? what happened to tennis-ball shoulders, girlfriend!??!?!?)... but nonetheless, i wanted to do something different today.
combined with this cool cream top: it has the sheer trend for some
kane
(WOOOOOOOOOHOOOOO) and the pleating, just because this top fortuitously is an amalgam of both!! good find.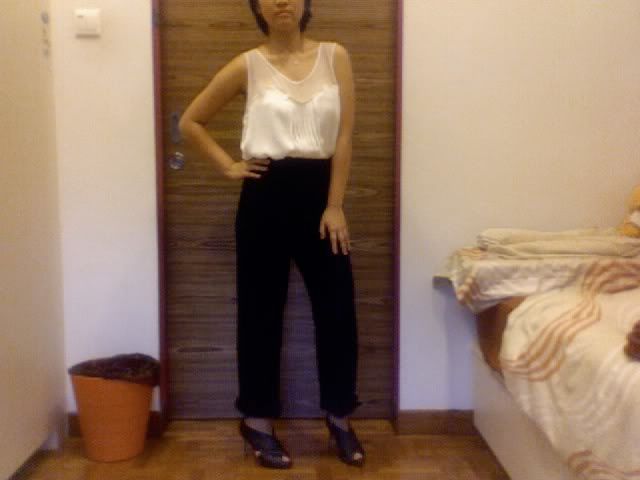 dorothy perkins
sheer sweetheart top,
robinson
high-waisted trousers,
pedder red
leather shoes,
tiffany
elsa peretti starfish necklace,
own
attitude. :)
at this point, it would be prudent to explain/account for the terrible photos that allow little detail to be showcased. essentially, the loss of my
canon
 + my mom's LOOONG trip = the return of horrible, grainy, low-res pictures, thanks to trusty photobooth. sigh. 
this photo just proves that photobooth is still its same horrid self. NO DETAIL whatsoever in the pictures.
i try to make do, nevertheless. a valiant effort methinks.
detail shots:
pleating (!!! AGAIN!!!)
in front, and the sheer panels front and back. the color of the sheer just reminds me of my blazer. more sheer to come! it's an easy way to stay on-trend.
wear your cuffed hems/boyish bottoms with a girly top to balance it out, then go crazy with your accessories and be a trendmeister!
last one!
i'm afraid this will have to be the sad state of photographic affairs for a while now...but i feel more accomplished attempting to post outfit photos than merely relying on scouring for editorials and the like.
and happy belated st patricks day! i wore a shamrock sticker on my tank for the day!
browsing
the sartorialist
and saw a similarly-inspired woman! she's wearing a totally different type of pant but clearly we both had
consuelo
's cuffed trews on our minds.
WOOT! fashion validation, courtesy of
mr schuman
and his roving eye. cheers!