jessica kagan cushman

 resin and crystal astro cuffs!!!
these are too cute--buy your own star sign and wear it proudly. its soooo hip and chic and witty, the last of which is something i think fashion should aim to be.
if you wanna make a statement, make it worth stating. available at
barney's
 i think.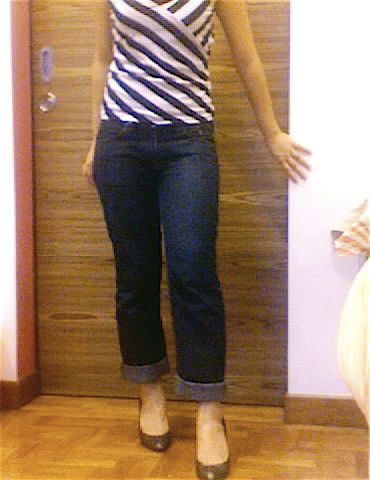 graphic stripe top from
hongkong
,
levi's
 jeans,
pedder red
heels (for both pairs)
JEAN CUFFS NOW, HOHO.
somehow the tropics have made this a very practical outfit choice, given the unpredictable sun and rain. i've really been feeling this silhouette recently, and as you can see i'm back to boring black and white...unless denim counts as blue!
i think the beauty of this look is manifold:
it serves duty in ALL types of weather: hot--less coverage (minimally), rainy--dry hems!

you get to show off your nice shoes which sometimes, jeans tend to cover up. genius!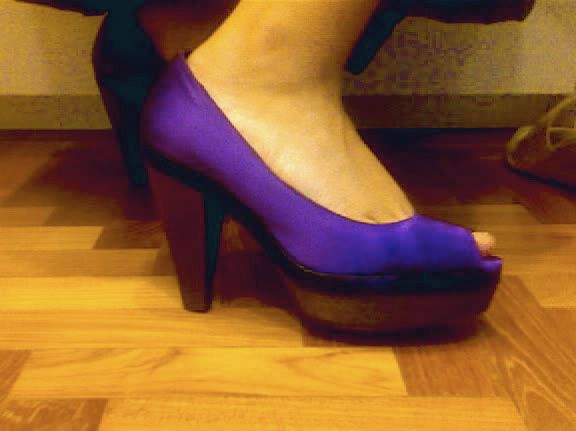 a killer-awesome pair of purple satin peeptoe wooden platforms, which would otherwise look tacky with a skirt, or get swallowed up by pant legs. will post higher-res pictures in april when my mom gets back! she's now in toronto after seeing some of the east coast.
its ALL ABOUT LENGTH: make sure your newly-cuffed hem ends just above your ankle, because that's the most flattering length for your pant silhouette. 
GET KILLA SHOES: or else your look may become sloppy--see

miz holmes

, as above. heels will further lengthen your legs (trust me on this, i'm not the tallest person around)
GO FITTED: wear them with a fitted rather than loose top, or else the added volume will overwhelm the bottom half of your outfit, which is clearly the focal point.
other than that, its all up to you! :)