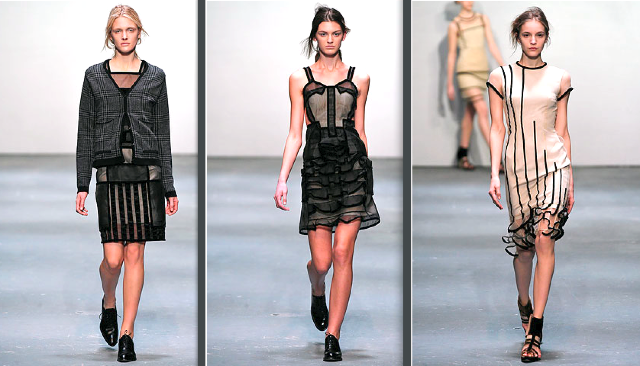 1 of the most coherent collections--girly yet typically edgy. can't believe how young AND talented he is!
notable: sheer panelling, ruffles, vertical stripes, all paired with flat footwear (WOOT!)
my #1 of LFW. fo shiz,
chris kane
 is DA BOMB. he straddles so many different influences that his appeal can't be boxed in to any "type". i love him even more now!
one of my fave designers (see sidebar!). with his retro-futuristic, nurse-lingerie look: distinctive!
notable: lingerie innerwear-as-outerwear aesthetic, pastels + metallics, covered decolletage.
reminds me alot of
marc jacobs
 for
LV
 back when he did nurses in transparent coats...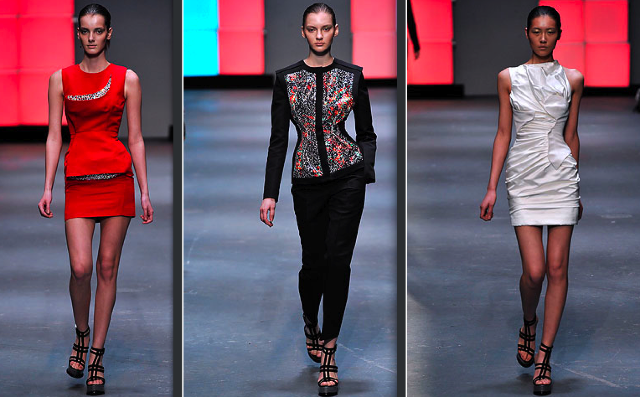 mario schwab

ridiculously singular in his silhouette: a cinched, defined waist with lots of details on dresses.
notable: strappy platforms, metallic/bejewelled accents, shift dresses, WAISTS x 39845739.
i personally like this alternative to all the straight/waify + strong shoulders aesthetic that's been hovering about naggingly recently...
too cute for words! part Dutch-milkmaid, part Eastern European matroshyka doll.
notable: large blouson bell sleeves, checks, folksy prints, woolen hats. 
(nothing that's going to be too fashion forward, but very cute nonetheless)
on a personal note, thanks everyone for your concern...i promise to get down to commenting and replying ASAP! i pulled an all-nighter last night (
red bull
 being the single best accompaniment), and finished it up. that's 6500 words in 5 days, not bad! now all that's due is my client letter of advice...such is the life of a legal eagle.
also, have solved picture clarity woes by using external hosting...slightly more inconvenient but its worth it for higher res pictures. looking forward to better picture posts from now on!
have a good weekend! :)